<![CDATA[
Kinetic

Arts Center

is pleased to announce
Aerial Kite Workshop
with Chelsea O'Brian (2 Days)
Pre-Register for both classes and get a discount!
Workshop Fee is only $45 per class - if you book ahead for both classes.
OR $50 per class/single class pre-registered
OR $55 per class at the door
Space is Limited – Click HERE to Sign-up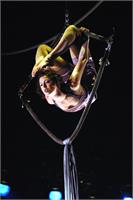 Aerial Kite Workshops
with Chelsea O'Brian
Sat, Nov 9 & Sun, Nov 10, 2013
2 – 4pm
Kinetic Arts Center – Studio Space
Open to Adults with some previous aerial.
This workshop is a two part series – See descriptions for each day's curriculum below.
Attendance at both days is recommended. However, if you'd like to attend and both days are not able to but would still like to attend – please email jennifer@kineticartscenter.com with details.
Day one of the Aerial Kite workshop will include basic principles, beginning with movements inside the diamond. We will explore the space within and around the diamond, learning new skills, and working with phrases of choreography. As students start to feel comfortable with the basics, we will begin the integration of the apparatus as a whole. We will learn a very basic drop and spiral, all to prepare us for the following week.
Day two we will be expanding on the basic principles of the Aerial Kite. On this second day we will explore manipulating the weight of the Kite through spinning, swinging, and tempos. We will continue to flow through sequences inside of the diamond. Our phrases of choreography will be more complex, integrating the tissu, as well as flowing through drops and spins. The material continues to become more challenging, elaborate, and fun!
About the Aerial Kite:
The Aerial Kite is an apparatus offering abundant aerial possibilities and creative potential, all within the form of a kite in the sky. It is a diamond shape apparatus with tissu attached to the bottom. The top of the diamond is made of rigid bars. The bottom is a cloud swing type rope allowing for additional movement. There are optional hooks on the sides of the bars that serve for looping the tissues. The wonderful thing about the Kite is that you can prepare your drops hanging comfortably. It also allows for more free fall than traditional tissu. It combines principles of tissu, hoop, and cloud swing, yet has an entire vocabulary of its own.
Bio:
Chelsea O'Brian is an aerial artist, director and instructor who has a passion for innovation. Her aim as a teacher is to help her students obtain the tools they will need to feel the freedom of dancing in the air. Her workshops are a place to build connection to body, strength, agility and flexibility. Chelsea is committed to her student's progress and development as artists, athletes and amazing beings.
Tweet This Post

]]>