Members Performance ClassSpring Showcase – Circus Goes to HollywoodJune 5, 2pm & 5pm
Dear Parents/Performers,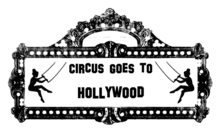 Thanks so much for joining us for our Spring 2016 Members Performance Classes! June will be here before we know it – please plug the dates below into your calendar!
GET OUT YOUR CALENDAR
Friday, June 3, 2016, 4-6p Tech Rehearsal (Mandatory)

Sunday, June 5, 2016, 12:30pm Call Time
PERFORMANCE TIMES
Sunday, June 5, 20162pm & 5pm
Tickets are on sale now: http://circushollywood.bpt.me
$7 in advance /  $10 at the door
TWO performances are scheduled on Sunday, 6/5/16. Yes, your child will be performing in both shows. You are invited, but not expected, to attend both shows. We will keep your children on site for the entire period and will make sure they are fed and have ample down time between performances. It will be like a day of Circo Camp–only better! Please send your performer with two heavy, healthy snacks and a water bottle on June 5.
Costumes: Please check with your child's instructor for additional information.
Email Michelle Post – michelle@kineticartscenter.com with any questions or comments!