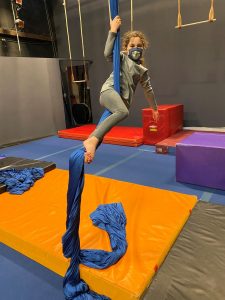 Welcome Back FULL-DAY, WEEK-LONG CIRCUS CAMPS plus FRIDAY CIRCUS SHOWS ALL SUMMER LONG! Enrollment is Open Now. Click Here to View the Schedule and Sign Up for Your Preferred Camp Week and Session.
Circus Arts Camp (6 -9 Yrs) and Sky High Aerials (10 – 13 Yrs) for Summer 2023 are Back and Running like it's 2019!
Students in both sections of Summer Circus Camp will enjoy a week of full-instructional days (9am – 4pm) PLUS participation in our famous end-of-the-week Friday Circus Show!* Each section has a limited enrollment to maintain our low student to coach training ratio and provide more time on the apparatus. Other camp features include:
Drop off as early as 8:45am at no additional charge!
Prerequisites: No previous circus training required!
10% Early Bird Discount through March 31 – Save up to $50. Multiple session enrollments can be discounted after March 31 (no combo discounts please) through Info@KineticartsCenter.com or (510) 444-4800.
Extend Your Summer Camp Day! After care is available from 4 – 6pm ($110 per week/camper). Campers enjoy structured supervision and arts instruction during our extended day programming. Extended Care reservations are required prior to camp start date.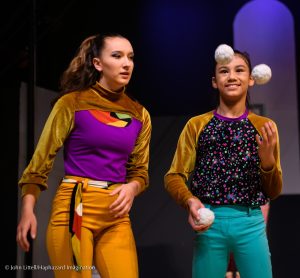 Circus Arts Campers (6 – 9yrs: $495/wk) will walk tall on stilts, climb high in aerial emphasis classes, and build speed & confidence in our EPIC obstacle courses. Dancing, stretching, and tumbling is sprinkled throughout as well.
Sky High Aerials (10 – 13yrs: $495/wk) is perfect for older students and campers with lofty goals! New aerialists are introduced to apparatus like aerial hoop, static & single point trapeze, rope, and tissue. Experienced aerialists are challenged to learn more advanced tricks and how to perform them with flair and style!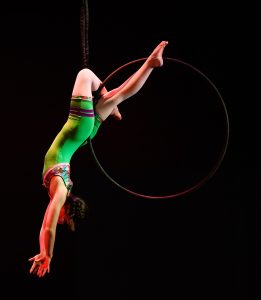 More Camp Information
*Due to the 4th of July holiday, Session 5 is only 3 days (rates are prorated) and the Friday Circus Show will be modified to accommodate the shortened week.
You will be asked to send your camper with a full lunch, TWO – THREE healthy hearty snacks, and a water bottle with their name on it. Make sure to let the front desk know about allergies, learning tools, or other valuable information that can help your camper have a great week. All eligible campers must be vaccinated against COVID 19. Be prepared to show us their vaccination record.
Payment Options
We request all fees paid in full prior to the first day of scheduled sessions (see Camp Cancellation Policy). Payment installments can be arranged through our Front Office. Call or email us as soon as possible. We have partial scholarship opportunities available. Tell us a little about yourself and your student, a need request, and session choices (1st and 2nd) to Info@KineticArtsCenter.com or call us at (510) 444-4800.
***** Camp Cancellation Policy: Cancellations made prior to May 1, 2023 are eligible for a full refund less a $75 administrative fee. Cancellations made after May 2 and prior to 20 days to the first day of your camp session are eligible for a 50% refund of the total fees for the session. NO REFUNDS on cancellations made within 20 days of your camp session start date. We cannot offer make up days or refunds for unused camp days.