Click above to view the Winter/Spring schedule on our registration site and to enroll immediately in classes running through May 228, 2022. Session-Based classes are enrolling until the end of January and fees are pro-rated to the first week of attendance.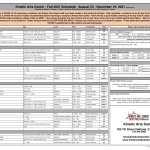 Click here Winter Spring 2022 Schedule for PRINT v12-11-21 to view and print a PDF version of the Winter /Spring class schedule.
Did you know that we can convert any pre-pandemic class units to a credit to be used toward this season's programs? We want you to come back to classes! Email us at info@kineticartscenter.com for information about your account status and for booking!
---
Kinetic Arts Center offers two types of learning environments: SESSION-based classes and DROP IN-based classes.
Session-Based Classes
: Enrolled students commit to attending for the entire season and enjoy all of the benefits that come with consistent training: improved strength, progress toward mastery of circus skills, and a major boost of confidence! Most of our youth classes are offered in this category to both provide stability in learning and consistent population to better comply with COVID related mandates.
Session-based classes can be paid with five monthly installments or in one lump sum. Email us here or at Info@KineticArtsCenter.com to make payment arrangements.
Drop In-Based Classes: Designed for the busy student to shape their own circus destiny with a more flexible scheduling option. The joy of mastering amazing circus skills one step at a time on a time table that fits your lifestyle is the benefit to a Drop In class. Most of the students enrolled in these classes are older teens and adults, often taking multiple classes simultaneously. Pre-enrollment is necessary to assure your spot in the class on a weekly basis in addition to creating a safer learning environment during unsure COVID related times. Drop in-based classes use our popular 10-class, or 5-class packages to assure maximum flexibility in scheduling.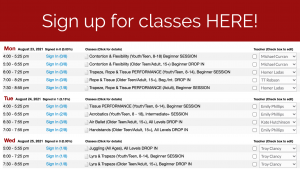 Email us at info@kineticartscenter.com or call us at 510-444-4800 with any questions or for enrollment assistance!