Did you know that we can convert any pre-pandemic class units to a credit to be used toward this season's programs? We want you to come back to classes! Email us at info@kineticartscenter.com for information about your account status and for booking!
---
Fall 2021 features a mix of SESSION and DROP-IN classes.  Our session-based class offering features instruction in our most popular circus disciplines. Enrolled students commit to attending the same class each week for the entire fall season and enjoy all of the benefits that come with consistent training: improved strength, progress toward mastery of circus skills, and a major boost of confidence!   Kinetic Arts Center's drop-in classes return this fall for our adult students! Though the classes are designated as "drop-in", it's best to reserve your spot ahead of time as space is limited. If you really like a specific class and can commit to attending on the same day and time each week, we are also happy to help you secure your enrollment for the entire season!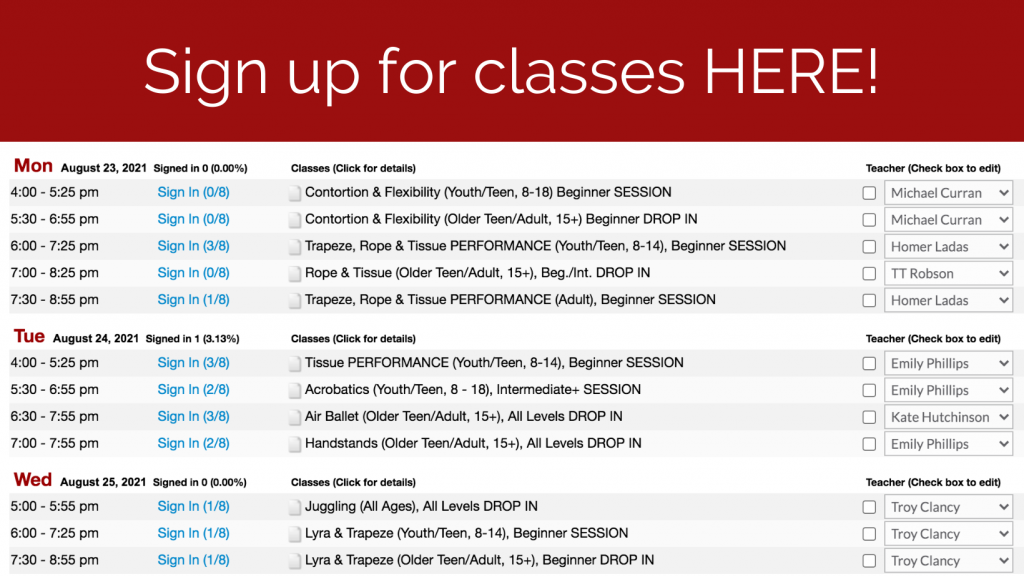 Email us at info@kineticartscenter.com or call us at 510-444-4800 with any questions or for enrollment assistance!
Download our printable schedule: FALL 2021 (August 23 – December 19) Class Schedule (PDF)