Our Spring Break Circus Camp program features a combination of instruction in aerial arts, physical theatre, and juggling. Your circus star will be divided into age appropriate instruction groups and be given a well-rounded circus experience they will never forget. Whether a circus ace or a circus fledgling, program participants will emerge with fresh new skills, elevated energy, and boosted morale every darn day!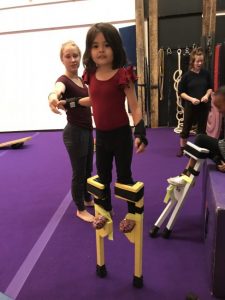 Spring Break Circus Camps have moved back to an all-day camp model similar to the Summer Circus Camp structure. In addition to the awesome circus tricks, SPRING BREAK CIRCUS CAMPS will continue to:
Offer instruction in a variety of circus arts like, tumbling, rope, tissue, dance, juggling, hoop, trapeze . . .

Cap enrollment to small group sizes in age appropriate groups (6 – 9 and 10-13) and limit other circus activity throughout the space (to help mitigate the spread of COVID),

Open to Ages 6+ (1st grade),

Send your kids home tired, excited and ready to learn the next trick.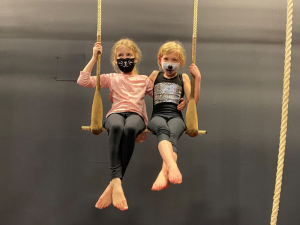 To enhance their circus training, you will be asked to provide a fabulously wonderful, large, and healthy lunch with plenty for snack breaks and a labeled water bottle. These all-day campers get hungry!
Spring Break Circus Camp Session Details
Runs April 3 – 7, 2023 (This is a 5-day camp; enrollment is for the whole week.) Weekly Session Fees: $495 / Save $50 until 3/12
Click Here to enroll for either Ages 6 – 9 or Ages 10 – 13 group in our Spring Break Circus Camp.
Camp Cancellation Policy
Cancellations made prior to March 1 are eligible for a full refund less a $75 administrative fee. Cancellations made after March 1 and prior to 7 days to the first day of your camp session are eligible for a 50% refund of the total fees (+$75 admin fee) for the session. NO REFUNDS on cancellations made within 7 days of your camp session start date. We cannot offer make up days or refunds for unused camp days.