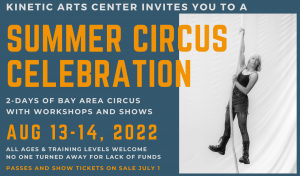 Two Days of Over 30 Workshop Events
Workshop Passes are only $50 * and can be used for both days. Each event is ~1.5hrs of fantastic training by some of your favorite artists and coaches or in disciplines you've always wanted to try.
No one is turned away for lack of funds. Our intention is to open the celebration to everyone – young, old, practicing, appreciative, beginner and professional. Consider making a 'purchase' of a ticket or pass in addition to your own to make available the Circus Celebration to those with limited access. If you know someone who can can benefit from attending the event, please let us know at Info @ KineticArtsCenter.com.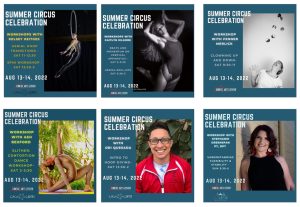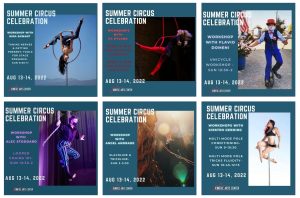 How to enroll in our Summer Circus Celebration Workshops
Use the Sign up here! tab on any page of the website,
SIGN IN to your account or create one now,
Go to the CIRCUS CELEBRATION WORKSHOPS tab

SIGN UP NOW in the first workshop you want to attend,
ENROLL in the class,

If you have purchased your PASS previously, continue to enroll,
If you need to purchase a PASS Select the CELEBRATION WORKSHOP PASS from the drop down menu and make your payment. You can continue to enroll in workshops from this point.
If you have any trouble, please reach out to us at (510) 444-4800 or Info@KineticArtsCenter.com. We are happy to help.
Invited Artists as of 8-4
I

nvited Artists: Sara Visvader, Luna Finn,

Janelle Peters, KC Hyland,

Alec Stoddard, Kelsey Keitges, Ori Quesada, Kirsten Gerding, Caitlyn Kelly-Kilgore, Sierra Camille, Sam Malloy, A

ngel Andrade, Nina Sawant, Emily Phillips, Stephanie Greenspan (Artletic Science), Ash Rexford, Prescott Circus, San Francisco Youth Circus, Mongolian Contortion Center, Circus Center, Fenner Merlick, Flavio Domeni, Circus Center, Kate Hutchinson and Circus Spire Youth Troupe. The list grows daily.
Two Evenings of Circus Acts
Shows run the evenings of Aug 13 & 14 and will feature different acts each night. A separate ticket * for admission is purchased HERE for these performances. ALL SALES ARE FORWARDED TO THE PERFORMING ARTISTS.
Current Line Up of Acts for Each Night of Shows (as of 8-4 subject to change)