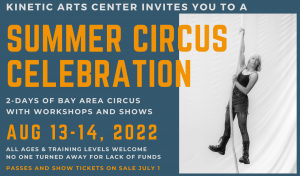 Invited Artists and Over 25 Workshop Events Scheduled as of 6/10
Chris Spiteri, Sara Visvader, Luna Finn, Janelle Peters, KC Hyland, Alec Stoddard, Kelsey Keitges, Ori Quesada, Kirsten Gerding, Caitlyn Kelly-Kilgore, Sierra Camille, Sam Malloy, Angel Andrade, Nina Sawant, and Prescott Circus
Enroll in your favorite workshops after July 1st.
Workshop Passes are only $50 and can be used for both days. Each event is ~1.5hrs of fantastic training by some of your favorite artists and coaches.
Shows run the evenings of Aug 13 & 14 and will feature different acts each night. A separate ticket for admission is purchased
HERE
for these performances. ALL SALES ARE FORWARDED TO THE PERFORMING ARTISTS.
No one is turned away for lack of funds. Our intention is to open the celebration to everyone – young, old, practicing, appreciative, beginner and professional. Consider making a 'purchase' of a ticket or pass in addition to your own to make available the Circus Celebration to those with limited access. If you know someone who can can benefit from attending the event, please let us know at
Info @ KineticArtsCenter.com
.