Winter/Spring 2023 Runs Jan 3 – May 27 and Enrollment begins after Dec 1st.
Class Package pricing remain constant. Performance class pricing will reflect duration of the season. Look for an updated Rate Sheet after Dec 1st for more details.
FALL Session 2022 Runs August 22 – December 20, 2022
Look for more Drop-In classes as we learn to live with COVID,

Look for Performance-Based Classes (these are session-based classes with a set number of weeks, closed enrollment, and a show at the end of the season).
Please call our office at 510-444-4800 or email us at Info@KineticArtsCenter.com with any questions!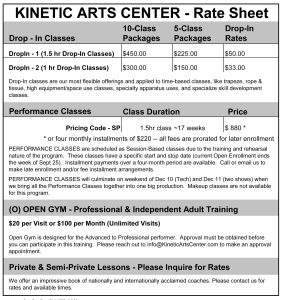 Fall and Winter Holiday Circo Day Camps – Click Here to Register
Thanksgiving Circo Day Camp, Nov 21 – 23 Monday – Wednesday (3 Days – $147/session) SOLD OUT
Winter Camp Week #1, Dec 19 – 23, Monday – Friday (5 days – $245/session) ALMOST FULL
Winter Camp Week #2, Dec 27 – 30, Tuesday – Friday (4 days – $196/session) FILLING
Lunch Bridge ThanksGiving Camp, Nov 21 – 23 Monday – Wednesday (3 days – $60) SOLD OUT
Lunch Bridge Winter Camp Week #1, Dec 19 – 23, Monday – Friday (5 days – $100) ALMOST FULL
Lunch Bridge Winter Camp Week #2, Dec 27 – 30, Tuesday – Friday (4 days – $80) FILLING
Payment Plans and Financial Assistance
We want our programs to be as accessible as possible. If you are unable to pay in a lump sum for a class package or tuition-based program, you may absolutely pay in installments (automatically billed to the card on file) at no additional charge! An initial installment payment is due at the time of registration and we will schedule all subsequent payments so that you know exactly when to expect us to charge the card on file. Ask us how to set up your payment plan! If you are seeking financial assistance please reach out to us explaining your request at Info@KineticArtsCenter.com.
Cancellation Policy
We require 24 hours notice in the event you need to cancel your reservation in one of our DROP-IN group classes. This way, we are able to release the spot to another student on the wait list and you can keep your class credit for use toward a future class!
Cancellation of enrollment in a SESSION class must be submitted in writing (via email at info@kineticartscenter.com). Cancellations submitted before the first day of class are fully refundable. There are no refunds on cancellations submitted after the fourth meeting of the class. If you cancel within the four-class window, you will be charged only for the classes taken. There are no make ups for SESSION classes.
We are happy to extend the expiration date on packages, transfer credit to family or friends, or convert classes to a credit on your account that you can use for any of our other circus programs (ex. classes, camps, workshops).