Kinetic Arts Center's Workshops
Kinetic Arts Center accepts workshop proposals year-round from resident and visiting teaching artists. There is something for everybody at every skill level. Perhaps you need a little inspiration to refine an act you've been working on FOREVER. Or, maybe you have been trying to summon the courage to register for one of our classes but you have felt a bit uncertain. Whether beginner or professional, you will find an enriching circus experience at Kinetic Arts Center!
***
Russian Bar with Rich Krzyzanowski
CLICK HERE TO SIGN UP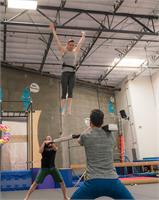 Sunday – August 4th, 2019
12:00pm – 2:00pm
Kinetic Arts Center – Main Floor
Rates:
$70 drop in – day of event
$65 Enrollment before 8/4
$60 early bird special – before 7/11
Course Description:
This workshop is an introduction to the Russian Bar, an advanced circus skill involving 2 porters bouncing and balancing 1 flyer on a springing bar apparatus.
Introductory progressions will involve spotting belts and drills to gain competence in balance, group trust. Porters will practice holding the bar with good form while making proper adjustments. Flyers will practice standing, balancing and bouncing on the bar.
The workshop is available for intermediate / advanced practitioners and performers of other physical circus skills such as tumbling, acro-balance, hand balancing and aerial. Please inquire if you would like to know if this workshop is right for you.
Age Range / Prerequisites:
Participants must be older teen to adult.
What to wear:
Wear comfortable, close fitting, clothes you can move in. Porters should wear sleeved shirts.
Instructor Bio:
Lead Coach Rich Krzyzanowski got his first taste of acrobatics in 2012 through AcroYoga. Since then he has been training various circus arts in various circus spaces with various circus folks. His journey into the wild world of Russian bar started in late 2016 when he stumbled into Meirmanov Sports Acro & Circus Arts in Chicago's Bucktown neighborhood. He started by training ground acrobatics and was soon invited to train Russian bar with Coach Nourbol Meirmanov. Nourbbol's invitation was very straightforward, as all things are in Russian circus. He said, "Rich, you come Friday. Ve throw kids." From there, Rich started to develop his love of and skills for Russian bar. Rich spent all of 2018 as a porter in a Russian bar act and a pusher in a teeterboard act at Dolly Parton's Celebration! Dinner Show in Pigeon Forge, Tennessee.
Supporting Coaches:
Abigail Baird, Emily Phillips and Justin Bench
****