2024/25 Performance Season Auditions
Scheduled for Sunday, June 23, 2024
Please review the documents posted for the 2023/24 auditions — The dates are different but the application process will be the same. New documents will be posted no later than Jan 2024
---

We are Looking for Students with Skills in the Following Areas:
Acrobatics/Gymnastics/Tumbling,
Dance/Aerial Arts,
Clowning/Drama/Theatre Arts,
and Willingness to Take Risks in Front of an Audience.
Plan see our shows in the spring where you will see fabulous live circus while garnering a greater understanding of the values and expectations we have for our students. Continue to take classes to improve your passion for your specialty.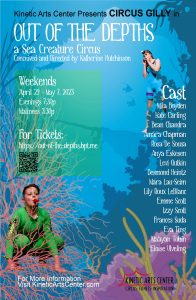 Audition Prep Recommendations
During the Spring of 2023, the following classes were offered to help your child train and prepare for their audition. Look for similar classes offered in the Spring of 2024 with enrollment open after March 2024.
Spring 2023 Audition Prep Classes
Act Creation for Circus Spire and Gilly Auditionees (Youth 8+ & Teen) with Emily Phillips (Lead Acrobatics, Hand Balance and Hand Stands for Spire and Gilly) || 4-session-based classes
Beginning Acrobatics (8 – Teens), or
Acrobatics/Tumbling (14+yrs or by Invitation) Int/Adv both with Patrick Stevens. Enrollment open now.
Supervised Open Gym where you can rehearse your act as many times as you can for the four Saturdays before June 25. ||
Private Lessons Schedule a private lesson with a coach from our impressive list of seasoned coaches and/or performers. Send us a message to Info@KineticArtsCenter.com with your preferred coach, days, and times.
Audition Information Here Click Here to View a Detailed Program and Audition Information Packet
Audition Application Form To Complete an Audition Application Form
If you require additional information, please email Kate Hutchinson – Artistic Director at Katherine@KineticArtsCenter.com.