Winter/Spring Classes run Jan 3 -May 27, 2023. Enroll now for Drop-In Classes and Performance Classes.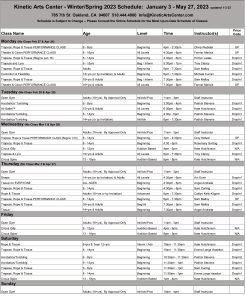 CLICK HERE TO ENROLL IN WINTER/SPRING CLASSES.
PERFORMANCE CLASSES RUN JAN 9 – MAY 27
CLICK HERE TO ENROLL IN PERFORMANCE CLASSES.
While we roll out the majority of our schedule early, we are constantly working to bring more offerings on throughout season. Keep checking with us.
Don't hesitate to contact us with questions – Info@KineticArtsCenter.com